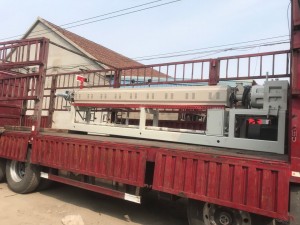 The weather is getting warmer and the work in the new year is on the right track. More and more customers choose Jinmeng. Today the pearl cotton equipment is sent to the United States and will be put into production next.
Longkou Jinmeng Machinery Co., Ltd. is a packaging machinery manufacturer specializing in R&D, production, installation and technical support. The company was founded in 1994. For more than 20 years, it has continuously introduced international advanced technology to strengthen its own technical force, and has developed and developed Plastic foaming unit series, egg tray production equipment, EPE foaming cloth unit series, egg tray production equipment, egg tray machine production line unit, egg tray machine production line, thickening machine, laminating machine, knotless extruder, etc. 10 A variety of products. Widely used in fruit packaging, industrial, agricultural and sideline products, handicrafts and other products packaging. And continue to introduce new and practical products to lead the progress of the industry.
The company always adheres to the principle of "quality assurance, customer first" and continuously strengthens quality management, production management and safety management. While providing equipment to customers, the company can also provide factory graphic design, technical guidance, and pre-sales and after-sales services such as equipment installation, commissioning, and operation training, so that customers have no worries.
---
Post time: Mar-15-2021